The Many Faces of Heritage: An Interdisciplinary Colloquium
Monday, Apr 29, 2019 at 8:30 AM EDT



This event is now sold out! If you have registered online already and will be unable to attend, please contact the organizer by responding to your event confirmation email.

We invite you to discover and share common interests in the study, teaching, and practice of all aspects of heritage conservation, planning and management at the University of Waterloo and beyond.

Heritage has evolved from a focus on the preservation of ancient built environments to an interdisciplinary field covering issues as wide as land-use planning, lived cultural expressions, architecture, natural areas conservation, archaeology, and digital media story-telling. Increasingly, critical heritage approaches come to the fore, touching on questions such as politics and power relationships, social justice, race and contested narratives, as well as Indigenous reconciliation. The community of interest in heritage has spread far and wide.

Academics and professional practitioners from across the greater heritage community will come together to highlight the latest interdisciplinary heritage research and ideas, explore collaborative opportunities, consider emerging challenges in heritage practice, and help foster the growth of a community of shared interest centred at the University of Waterloo.

The information and advice gathered from the colloquium will be used by the Heritage Resources Centre to guide the development of a stronger community of heritage practice, research and teaching centred at the University of Waterloo. The Heritage Resources Centre will also use the collected ideas and insights to explore the development of new educational opportunities for University of Waterloo students and professionals pursuing careers in various aspects of heritage conservation, planning and management.

Date & Time: April 29, 2019, 8:30 a.m. to 4:30 p.m.
Venue: Columbia A&B Rooms, Federation Hall, Main Campus
University of Waterloo, 200 University Avenue West, Waterloo, ON.
Registration: Admission is FREE but online registration is required in advance
Lunch & Coffee Breaks: Included with registration

The Agenda

While events like this can go over or under time, this is the approximate schedule for the day.

8:30am Registration, coffee/tea & refreshments
9:00am Introduction
9:15am 1st block of presentations
10:45am 1st round of small group discussions
11:30am Lunch
12:45pm 2nd block of presentations
2:15pm 2nd round of small group discussions
3:00pm Coffee/tea & refreshments
3:30pm Panel discussion
4:30pm End

The morning presentations will consist of the following speakers & subjects:
Kate Hagerman - Placemaking: Culture and Conservation
Kayla Jonas Galvin - Successes and Challenges in Heritage Consulting
Robert Park - Heritage as a Public/Private Commodity in the 21st Century
Anne Bordeleau - Monuments Today: Invisibility, Diversity and Indexicality
Marcus Letourneau - Change is the Law of Life: Musings on the Future Challenges for Heritage Conservation Planning

The afternoon presentations will consist of the following speakers & subjects:
Laura Loney - Cultural Heritage Landscapes: Identification and Management
Fred McGarry - Discovering our Commonwealth in Cultural Landscapes
Robert Shipley - Make Turtle Island Great Again
Janice Barry - Indigenous Recognition, Reconciliation and Cultural Heritage: Are We Planning in "A Good Way"?
Clara MacCallum Fraser and Carolyn King - Providing Support and Guidance through Uncertain Terrain: Let's Talk About a Shared Path

Thank you to the following organizations for generous financial support!
UW Faculty of Environment | UW School of Planning | St. Jerome's University | Archaeological Services Inc. (ASI)
Federation Hall, Columbia A&B Rooms
200 University Avenue West Waterloo, ON N2L 3G5 CA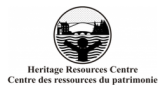 Heritage Resources Centre
Since 1984 the Heritage Resources Centre (HRC) has conducted research and offered education related to heritage themes and worked with all levels of government on heritage initiatives. The HRC has been a consistent source of empirical studies and a training ground for new generations of heritage professionals. It has supported the activities of legions of tireless community volunteers dedicated to the conservation and celebration of our collective past that provides guidance for our future.