Will our kids be alright?
Tuesday, Aug 25, 2020 at 7:00 PM - 8:30 PM EDT



Join the University of Waterloo, in partnership with Kitchener Public Library, for an online community lecture.
Will our kids be alright?
How will the disruptions of 2020 affect our children and their development? University of Waterloo researchers will explore the short and long-term social and developmental consequences and how we can avoid exacerbating the effects of the global pandemic.

Moderated by Sheila Ager, dean of Arts



Community talks will be held online using a video link that will be provided after registration.

You may submit questions prior to the event when you register or at any time during the event using the online platform.

If you have any questions, please contact Community Relations and Events at cre@uwaterloo.ca.
Available Online Only
Instructions will be sent out via email after registration.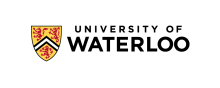 University of Waterloo
The University of Waterloo is Canada's top innovation university. With more than 36,000 students we are home to the world's largest co-operative education system of its kind. Our unmatched entrepreneurial culture, combined with an intensive focus on research, powers one of the top innovation hubs in the world. Find out more at uwaterloo.ca.