Gordon Nicotine-Sands: Pow Wow 101
Tuesday, Sep 19, 2023 at 6:00 PM - 8:00 PM EDT

{ "name":"Gordon Nicotine-Sands: Pow Wow 101", "description": "https://ticketfi.com/5248/gordon-nicotine-sands-pow-wow-101", "startDate":"2023-09-19", "endDate":"2023-09-19", "startTime":"18:00", "endTime":"20:00", "location":"305 Phillip St Waterloo ON N2L 5Z5 Canada", "label":"Add to Calendar", "options":[ "Apple", "Google", "iCal", "Microsoft365", "Outlook.com", "Yahoo" ], "timeZone":"US/Eastern", "trigger":"click", "inline":true, "listStyle":"modal", "iCalFileName":"invite.ics" }



Gordon Nicotine-Sands is a fourth generation singer, originally from Bkejwanong territory, and the Poundmaker Cree Nation in Saskatchewan. The "Eagle Flight" singers (lead by Gordon) are a First Nations singing group based out of London, On. and have been active for over two decades. The group has travelled extensively in the Great Lakes area(internationally on occasion) participating in festival-like celebrations known as "Pow-wow". "Eagle Flight" has also honoured invitations from professional and educational institutions in the form of educational song and dance performances. In addition to creating and sharing traditional music, Gordon also serves as an MC to many winter celebrations in the Great Lakes known as "Round dance" which are trending cultural events that originated out west. Gordon is a graduate of Fanshawe's Fine Art program and Father to four.

This Presentation will focus on the origin of what is known as "Pow-wow," and how it came to be in North America, and in the Great Lakes area. Gordon will also talk about what you can expect when attending a Pow Wow, including drumming, singing, dancing, and associated protocols.

East Campus 5 - University of Waterloo
-
4201
305 Phillip Street Waterloo, ON N2L 5Z5 CA
Also Available Online
Instructions will be sent out via email after registration.
Tickets
| Type | Price |
| --- | --- |
| Pow Wow 101 | Free |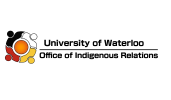 UWaterloo OIR
University of Waterloo Office of Indigenous Relations