Brad Katsuyama Fireside Chat
Wilfrid Laurier University

- Senate & Board Chamber

Thursday, May 5, 2016 at 1:00 PM EDT

{ "name":"Brad Katsuyama Fireside Chat", "description": "https://ticketfi.com/897/brad-katsuyama-fireside-chat", "startDate":"2016-05-05", "endDate":"2016-05-05", "startTime":"13:00", "endTime":"14:00", "location":"75 University Ave W Waterloo ON N2L 3C5 Canada", "label":"Add to Calendar", "options":[ "Apple", "Google", "iCal", "Microsoft365", "Outlook.com", "Yahoo" ], "timeZone":"US/Eastern", "trigger":"click", "inline":true, "listStyle":"modal", "iCalFileName":"invite.ics" }



Join us on Thursday, May 5th at 1 p.m. in the Senate & Board Chamber for a rare presentation and fireside chat by alum Brad Katsuyama, BBA '01.
Brad is the CEO, President, and co-founder of IEX – a stock market dedicated to investor protection. IEX is owned by world-class mutual funds, hedge funds, family offices and entrepreneurs such as Jim Clark and Steve Wynn, and in 2014 raised VC funding from Spark Capital and Bain Capital Ventures, among others. Prior to co-founding IEX, Brad was a 12-year employee of the Royal Bank of Canada where his most recent management roles included Global Head of Electronic Sales and Trading and Head of US Risk Trading. He was a cover story for the New York Times Magazine, and has been featured in 60 Minutes, the Wall Street Journal, CNBC, and other media outlets. Brad was recently named to Crain's 40 Under 40, won the Adam Smith prize at the 2015 Tribeca Disruptive Innovation Awards, and is a Winner of Ernst & Young's 2015 Entrepreneur of the Year. Brad received the Alumni Gold Medal as the top student in the School of Business and Economics at Wilfrid Laurier University in Waterloo, Ontario.
Wilfrid Laurier University
-
Senate & Board Chamber
75 University Avenue West Waterloo, ON N2L 3C5 CA
Tickets
| Type | Price |
| --- | --- |
| General Admission | Free |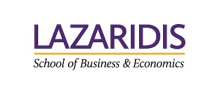 Lazaridis School of Business & Economics
The Lazaridis School of Business & Economics is one of the most prestigious and selective schools in Canada. We teach our students to think for themselves, ensuring they can adapt to a world of ever-growing complexity. Our alumni are making a difference in the world – and you can, too.

We have more than 6,000 students enrolled in our full- and part-time undergraduate, graduate and diploma programs, making us one of the largest business schools in Canada.

Our AACSB-accredited programs are among the most selective undergraduate business programs in the country and our students are among the most engaged. When our students aren't winning national case competitions, they are leading student clubs and organizations, volunteering in the community, or starting their own businesses.

Visit www.lazaridisschool.ca for more information on the Lazaridis School of Business & Economics.